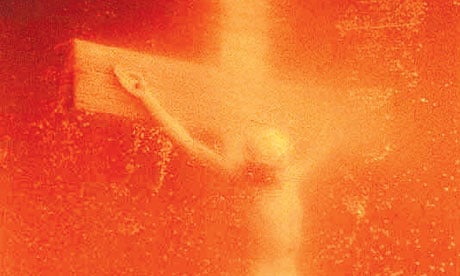 The debate over whether the government should use taxpayer money to fund the arts took off seriously in 1989 with the display of Andres Serrano's photograph of a crucified Christ, submersed in a container that contained Serrano's urine.  The photo was entitled, "Piss Christ".  The piece set off a fireball of controversy, not surprisingly much of which came from Christians.  Serrano had received a grant to pursue his photographic art through an award from the National Endowment for the Arts.
There was talk in the recent budget negotiations that President Trump wanted to eliminate the NEA from it.  That naturally brought howls from those who support government grants for the arts.  Hollywood came out in force.  "A Great Nation Deserves Great Art" was once again trotted out as the discussions took place.  Honestly, I agree with that slogan. But what are the impacts on art when it is government funded – at least in part?
The Serrano piece is certainly a piece of "art" if we define art to include photographic images.  Some people might think it is brilliant.  In my view it is, at the least offensive and vulgar.  Concerning taste, there can be substantially different views on everything from art to pasta sauce.  Freedom to produce art is as much protected by the First Amendment as is freedom of speech.  We might even define art in some forms, painting and ballet, for example, as non-verbal speech.
The only way to ensure that art may be freely produced is to ensure that the First Amendment guarantee is preserved.  It is remarkable that those who were most upset about the proposed defunding of NEA have cohorts who are, at that same time, trying to narrowly define the First Amendment to restrict the right to speak of those who have views that differ from their own by describing those who dissent from their viewpoint as spewing "hate speech".
Even if this argument were valid, which I do not believe it is, who is to define what constitutes this sort of speech?  Should the government define rap music as hate speech since many songs use lyrics are filled with vulgarity, the n* word, refer to women as b*tches and advocate for the killing of police?  A government which finds this music and its lyrics objectionable might do just that but for the First Amendment.  But there is a flip side to this coin.
What if a government funds artists – but only those artists who convey a message that they want disseminated?  That's exactly what happened in the Soviet Union.
Sergei Eisenstein was a Latvian movie director.  He and his mother moved to St. Petersburg when he was young.  Although raised as an Orthodox Christian he became an atheist.  After completing his term of service with the Red Army he decided to study engineering which was his father's profession.  But he became interested in a new industry – film making and made his mark with the silent film, Battleship Potemkin.
By the late 1930's the winds of war were howling across Europe.  Stalin was firmly in power in the Soviet Union and he called on Eisenstein in 1938 to make an historical/propaganda film, Alexander Nevsky, a film about the invasion of Mother Russia by the Teutonic Knights which occurred in the 13th century. The monk who accompanies the knights is the very epitome of evil both in appearance and action as he picks up Russian baby after baby, blesses them and throws them on the raging pyre, purging them of their apostasy.  This film was propaganda at it's finest.  And it was propaganda for which the government paid.
Funding controversial art is part of defending free speech which is currently under assault.  It seems to me that the solution to this problem is simple for those actually seeking a solution.  If you don't like what someone's saying, walk out of the lecture.  If you don't like an artist's work, don't look at it or buy a ticket for its performance.   But the arrogant left doesn't truly want either free speech or art.  They want the Stalinist version of that.
Should the government continue to fund the NEA?  To me, that's the smallest part of the fight that is ongoing.  The unique characteristic of being able to express ourselves without reservation is the real target.  And if each of us doesn't rise up, refuse to be silenced and speak out for it, this most precious liberty may well be lost.